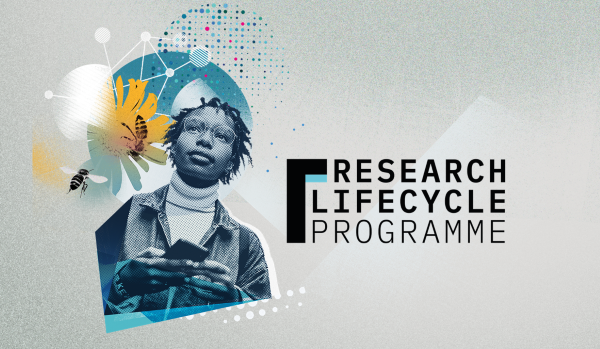 Preparing for year 4 of the Research Lifecycle Programme
The Research Lifecycle Programme (RLP) team are busy preparing to submit the next business case to the University's Strategic Change Sub Committee (SCSC) to continue our plans for year 4 of the programme.
The submission of the business case details our plans and funding to carry out the next stage of work in the 2021/2022 academic year.
Business cases are being submitted for 8 projects within the RLP. Below is a short summary of each based on the drafts of the business cases. Some changes will occur in some projects.

Research information projects
Project E: Research Networking and Collaboration
Project E is focused on improving the University's ability to undertake high-quality, collaborative research.  The project's next phase of planned work is divided into 2 streams:
Pure
The goal of this stream of work is to fully implement the newest portal product available from Elsevier (the supplier of the Pure application) to include 'Fingerprinting' technology, which mines the text of documents in Pure to enable researchers to surface valuable connections among people, publications and funding. Also planned is a managed trail of the Funding Institutional (FI) which is a searchable database of funding opportunities, which integrates with the Pure application.
Office 365
The goal of this stream of work is to increase the uptake of centrally supported collaboration and secure tools for the research community, such as MS Teams / MS 365. This includes consolidating training activity to provide the research community with better targeted support.
Project V: Manchester Digital Collections
Manchester Digital Collections (MDC) was launched in January 2020. So far there are over 22 collections and over 120,000 images. The MDC platform is now a valuable tool to add in research bids. The first collections specifically prepared to support teaching were added in 2020 and it is envisaged that this will grow significantly as the tool is included in teaching programmes.
Project U: Research Data Management
The objectives of Project U for 2021/22 are to continue to engage with the University's research community in the ongoing development of Research Data Management (RDM) services and to continue the overall development of a RDM Centre of Excellence at the University.
The team will also aim to improve discoverability, accessibility and reuse of research data outputs and to define and develop improvements to reporting on research data assets and outputs.
In summer 2021, the University's new Figshare research data repository will be launched, and the team hope to make this platform a natural choice for researchers to store, publish and showcase their research data.

Research processes projects
Project A: Enhancing support for research: end-to-end processes
In 2021/22, the Project A team plan to: 
Implement a new set of administration services within IT Services for the Data Safe Haven Plus (in collaboration with 'Project S: Highly restricted data service'). This will hopefully improve satisfaction for the DSH+ users and staff who support the service.
Implement a new system called 'Replicon' for researchers submitting timesheets and the staff who use them to submit claims to funders. This system is currently being trialled and the team hope to roll it out in the 2021/22 academic year. This will then be handed over to Research Finance as business owners to manage and operate.
Project B: Professional Services for Research
Project B seeks to bring quality and consistency to the services delivered by Professional Services for Research (PSfR) functions.  In 2021/22, the project hopes to continue the roll out of competency management across several cohorts in research and IT and, if time allows, work with further cohorts. 
Project G: Manage funders and partners more effectively
This is a new project due to start in the programme. Currently there is no single, central record that provides information on interactions the University has with research funders, business partners, collaborators and customers. This project aims to develop a Customer Relationship Management (CRM) platform to enable the University to manage funders and partners more effectively.

e-Research infrastructure projects
Project M&K: Incrementally build compute capacity and improve access to compute resources
This project aims to increase the available computational resource (which is free at the point of use) to University computational researchers, reducing the 'shadow' use of public Cloud and to make resources available for development of easy-to-use Cloud interactive computational resources for non-specialists.
In 2021/22, a new graphical will be developed providing software-as-a-service and platform-as-a-service instances, including RStudio, Jupyter, virtual desktops and transient Computationally Intensive Research (CIR) clusters, making access to data processing and modelling resources simpler for non-specialist users.  
Project L: Storage with auto-tiering
The platform underpinning the current Research Data Storage service (Isilon) no longer satisfies many essential requirements. In 2021/22, this project will deliver a new file storage system for use by the research community at the University, aligned with the IT Services file storage strategy.
In particular, this project will deliver tiered storage, where files are automatically moved to an appropriate type of storage to maximise performance while minimising cost. 
The Business Cases for our projects are due to be reviewed by the SCSC in July. We hope to provide an update on the outcome of this by the end of the academic year.
In the meantime, if you have any questions, please contact rlp@manchester.ac.uk

What is the RLP?
The Research Lifecycle Programme (RLP) is a series of investments of over £15 million across 5 years. The overarching goal of the programme is to uplift research support in the University, to help researchers focus more on their research and remove administrative and technological barriers from their way.
The programme focuses on three areas of work:
Research information– How researchers find and manage information
Research processes– How we enable better research support at The University of Manchester
e-Research infrastructure– A combination of digitally-based technology and the people and organisational structures needed to support modern, internationally leading, collaborative research.
Find out more about the RLP: