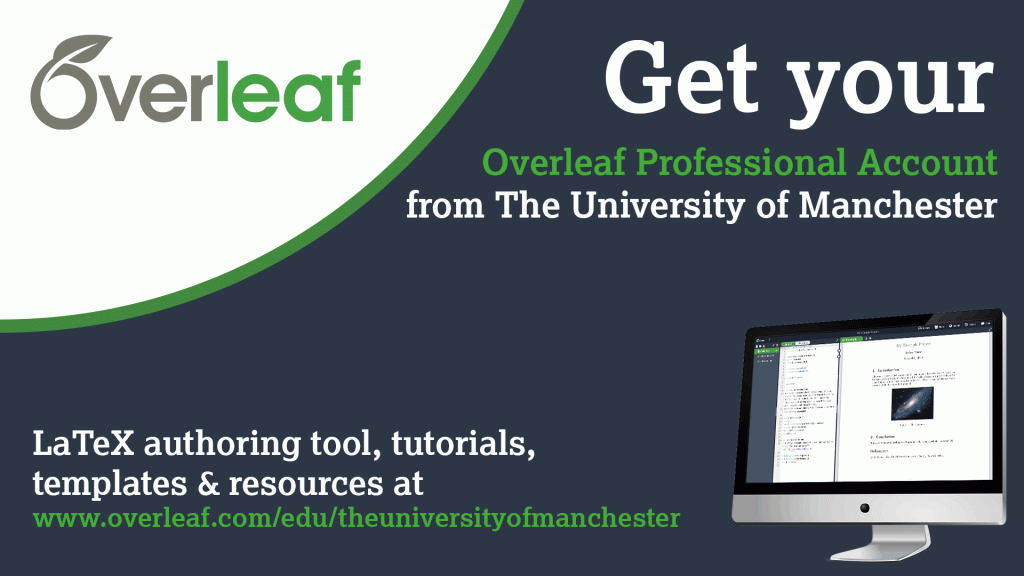 Launch of Overleaf at the University
Following feedback from the research community, the networking and collaboration project in the Research Lifecycle Programme is launching premium access to Overleaf, a collaborative authoring tool, for the research community, postgraduate researchers (PGRs) and staff at The University of Manchester.     
Overleaf is an online collaborative academic writing and publishing tool. It is designed to make the process of writing, editing, and producing papers and documents much faster and easier for authors.  
The University is providing Overleaf Professional accounts to the research community, staff and postgraduate researchers (PGRs) who would like to use a collaborative, online LaTeX/Rich Text editor for their work or research projects. LaTeX is a tool used to create professional-looking documents. This means you focus on the contents of the document and the Overleaf tool will take care of the formatting using the correct templates for research papers, documents and more. You also won't have to worry about version controlling documents, as the tool will allow you to see all changes made and has the ability to revert back to any previous change.  
An Overleaf Professional account will allow access to:  
Online collaboration in LaTeX or RichText within one editing platform – easily switch between either mode. 
Real-time collaboration in your browser for sharing and editing projects with authorised users (including collaborators outside of the University). You can also remove collaborators at any time. 
Real-time track changes and visible collaborator cursor(s) 
Real-time preview of projects to view the PDF version of your document while editing and writing – type on the left and see your typeset document on the right. 
Full history view of your projects – see all changes made for the entire life of the project, with the ability to revert to any past change. 
Integrated, streamlined publishing – allows you to publish immediately and directly to the journal of your choice with an integrated submission system to dozens of publishing partners. 
Unlimited number of invited collaborators (& link sharing) with advanced access control for protected projects 
Two-way sync with Dropbox and GitHub 
Reference manager sync and advanced reference search 
Priority support from Overleaf 
Free webinars with varying levels and topics (live options and pre-recorded on-demand sessions) 
Access to The University of Manchester resource portal, including easy sign up, access to hundreds of journal templates and FAQs and resource links. 
You can sign up for your Overleaf Professional account at The University of Manchester resource portal using your UOM email address.  
If you already have a free Overleaf account using your UOM email, your account will automatically be upgraded to Overleaf Pro. If you already have a free Overleaf account, but used a personal email address, you can avail of a Manchester Overleaf Pro account by simply adding your Manchester email to your account settings. If you experience any issues, please contact the Overleaf team.  
Please note, Overleaf should not be used for the sharing or storing of highly restricted  data and should only contain information which is suitable for the public domain. If you are unsure, or require guidance, the University policies for Data Classification is available here:
If you want to find out more about Overleaf, the team will be hosting Introduction to Overleaf webinars. You can register via the links below. After registration, you will receive a confirmation email containing information on joining the webinar.