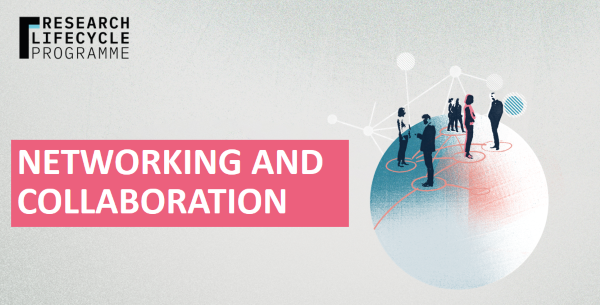 Interview with Dr Andrew Stewart: Research networking and collaboration
Dr Andrew Stewart, Academic Sponsor of the Research Networking and Collaboration project, gives us an overview of the project and upcoming opportunities for the research community to help shape the future of collaboration at the University. 
Hi Andrew. The Networking and Collaboration project (Project E) started recently in the Research Lifecycle Programme (RLP). Can you tell us a little bit about this project?
The overall aim of the networking and collaboration project is to enable better, higher impact research by providing the research community with tools and ways to collaborate and network effectively.
The work we are currently doing is to understand the barriers to effective collaboration in the research community. There are some research groups in the University using fantastic collaboration tools already, and we don't want to stop people doing things that already work for them; this is not what the project is about! We want to provide a set of solutions that are centrally supported for research communities who currently aren't using any collaboration tools.
The project is solution agnostic. We don't have any preconceived ideas about what the potential collaboration solutions might be, so we need to understand what people's needs are and what barriers they have experienced. We are also very aware that many of the collaborations that take place are external as well as internal, so the projects focus is also on collaboration outside the University, as well as inside.  
As Academic Sponsor, what is your role within the project?
My role as Academic Sponsor is to represent the research community at the University in this project. It's also my role to make sure that academic involvement and feedback is included and that the right conversations happen at the start, from a research point of view.
I am also part of the overall Research Lifecycle Programme Board, which meets monthly to strategically review all current RLP projects. A number of researchers from across the University are part of the Board, so the networking and collaboration project not only has research input at project level, but also at the highest level of RLP.
From a research perspective, what is it currently like to network and collaborate at the University?
The great thing about The University of Manchester is its size, but this can also be a problem as it can be hard to find people to potentially collaborate with on research projects. Often the most interesting opportunities take place at the interface of academic disciplines, but it's hard to find people in other faculties or schools at present. This seems to be the case in particular for Early Career Researchers, as it is often difficult to find collaboration opportunities outside of the formal line management home.
Are there any upcoming opportunities for the research community to get involved?
Yes, in May we are holding four workshops to get input from the research community. These workshops aim to understand the current barriers to networking and collaboration, and to think of possible ways of overcoming them.
The first three workshops are open to all researchers and research support staff to attend, and the fourth workshop will be focused on PGRs. It's important for people to get involved as it's a chance to shape and influence possible solutions that could be adopted. It's also a chance to discover what tools are out there and what other people are using, particularly if you are currently not using any collaboration tools.
Attendees will also be asked to submit ideas before the workshop via a website called Well Sorted (up until Monday 20 April). If colleagues are unable to make any of these dates they are still welcome to submit any ideas they have. Further details and registration information can be found via the Eventbrite links (listed below).
Please note: These workshops will take place online, via Zoom. 
If you have any queries, please contact rlp@manchester.ac.uk.