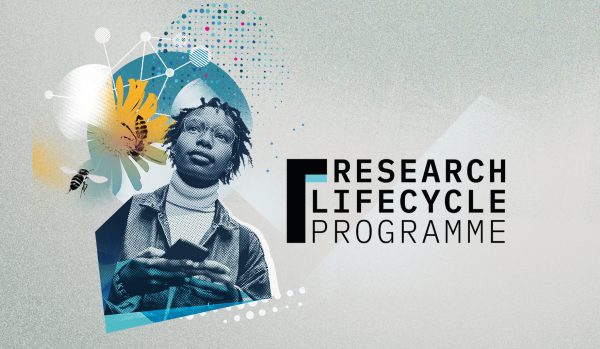 Our focus for year 4 of the Research Lifecycle Programme
The Research Lifecycle Programme (RLP) is a series of investments of over £15 million. This figure is the average yearly cost, in the years preceding the programme, for the maintenance of Research Infrastructure at the University. The programme is designed to be proactive, targeted and controlled, rather than reactive, investment.  The overarching goal of the programme is to uplift research support in the University, to help researchers focus more on their research and remove administrative and technological barriers from their way.
This October, the RLP will start year 4 of its 5 year journey. The programme focuses on three main streams of work to help uplift research support:
Research information – How researchers find and manage information
Research processes – How we enable better research support at The University of Manchester
e-Research infrastructure – A combination of digitally-based technology and the people and organisational structures needed to support modern, internationally leading, collaborative research.
Here's an update on each of our streams of work and what you can expect from year 4.   

Research information projects
Research Networking and Collaboration (Project E)
Project E is focused on improving the University's ability to undertake high-quality, collaborative research.  The project's work this year is focused on 2 streams:  
Pure
The goal of this stream of work is to fully implement the newest portal product available from Elsevier (the supplier of the Pure application). Amongst other things this will include 'Fingerprinting' technology, which mines the text of documents in Pure to enable researchers to surface valuable connections among people, publications and funding. The project will also be exploring the options available to host the Pure application.
Supporting the Roll-out of MS 365 to the research community
The aim of this stream is to support the roll-out of the supported and secure, collaboration tools within the research community, including MS 365 and Teams. This will provide an ecosystem of resources that facilitate secure collaboration, that meet researcher requirements and facilitates multi-disciplinary research. The tools will provide safe and secure data storage, training, and appropriate technical support.
Secure Collaboration
The objective of this stream is to produce a defined set of recommended, secure and supported tools to use for research activity, including survey tools, collaboration tools, storage solutions, data processing environments, collaborative writing tools and sharing and publishing data. It will also highlight those tools recommended for working with restricted and highly restricted data, and protocols.
The Project Manager for Pure workstream is Malcolm Brown malcolm.brown@manchester.ac.uk.
The Business Change Manager and Project Lead for the Roll-out of MS365 and Secure Collaboration is Anthony Allen anthony.allen@manchester.ac.uk
Develop a service to manage restricted data (Project S)
In winter 2021, the project will be launching the Data Safe Haven Plus (DSH+), a platform and service that will support UoM researchers in managing access to, and use of, highly restricted data from a diverse range of sources (eg Office of National Statistics, NHS Digital, government organisations, commercial partners etc.). The project will also be launching the Safe Pod in the autumn which was recently installed in the Main Library.
Research Data Management (Project U)
As we move into the new academic year, Project U will continue to engage with the University's research community in the ongoing development of Research Data Management (RDM) services. Major themes include a focus on data publishing, digital preservation, data stewardship and enhancing the ways we can track and report on research data assets and outputs.
Following a successful soft-launch in Summer 2021, the University's new Figshare research data repository will be promoted to the wider research community at UoM, and we hope to make this platform a natural choice for researchers to store, publish and showcase their research data. Work is also planned to implement a powerful dataset discovery and ingest tool which will enable researchers to effortlessly showcase data as part of their wider research profile.
Work streams will also investigate options for digital preservation, electronic lab notebooks, training and professionalization in Data Stewardship, and the potential to illustrate links from UoM facilities and equipment with the research projects they engage with to provide a richer picture of the research journey.
Manchester Digital Collections (Project V)
Manchester Digital Collections (MDC) was launched in January 2020. So far there are over 24 collections and over 150,000 images. The MDC platform is a valuable tool to add in research bids and to be used to support teaching programmes. For teaching papyrus to print, the first dedicated collection, has 7 sub collections already in place with more to follow.
The project has also delivered a new exhibitions website, which started with a celebration of 200 years for the Manchester Guardian. This service is available to all researchers and there are already six further additions in the pipeline.
The next development for the project is to increase the number of collections drawn from the Manchester Museum and Whitworth Art Galleries. The first examples are expected in 2022. An additional benefit of this work will be an enhancement to the web search capabilities for both institutions and making more of their extensive portfolio of items visible to researchers and the general public.
Survey Tools (Project Y)
Last year the RLP launched QualtricsXM for all at the University, making it the IGO's preferred survey tool. This year the project team will be launching REDCap survey offering to researchers working with highly sensitive research data (eg clinical data). Researchers will be able to request REDCap access via the IT Support Portal at the start of October. You can find out more about this in our recent update.

Research processes projects
Enhancing support for research: end-to-end processes (Project A)
Last year, the Project A team implemented a new set of administration services within IT Services for the Data Safe Haven Plus (in collaboration with 'Project S: Highly restricted data service'). The project's plans for implementing a timesheet system are currently paused.  
In autumn, the project team hope to carry out engagement workshops with stakeholders to scope which stage of the research lifecycle would benefit the most from improvement activities.
Professional Services for Research (Project B)
Project B seeks to bring quality and consistency to the services delivered by Professional Services for Research (PSfR) functions.  In 2021/22, the project hopes to continue the roll out of competency management across several cohorts in research and IT and, if time allows, work with further cohorts. 
Research Costing Tool (Project D)
In late Autumn 2021, the project team will roll out the new research costing tool, BlackDackel, to the wider University. This tool aims to improve the University's ability to accurately cost research activity and will allow staff to model costs throughout the lifecycle of a research project. The tool was made available to the Research Services team in the Summer as part of a 'soft-launch' and the RLP team have been working to gather feedback and make improvements before the official roll out later this year.  
Manage funders and partners more effectively (Project G)
Project G is a new project that will start in 2021. Currently there is no single, central record that provides information on interactions the University has with research funders, business partners, collaborators and customers. This project aims to develop a Customer Relationship Management (CRM) platform that can reflect the needs of researchers, business development colleagues and the wider University community to improve the quality and timeliness of the service that the University deliveries to our external contacts.

e-Research infrastructure projects
Storage with auto-tiering (Project L)
The platform underpinning the current Research Data Storage service (Isilon) no longer satisfies many essential requirements. In 2021/22, this project will deliver a new file storage system for use by the research community at the University, aligned with the IT Services file storage strategy.
In particular, this project will deliver tiered storage, where files are automatically moved to an appropriate type of storage to maximise performance while minimising cost. 
Incrementally build compute capacity and improve access to compute resources (Project M&K)
This project aims to increase the available computational resource (which is free at the point of use) to University computational researchers, reducing the 'shadow' use of public Cloud and to make resources available for development of easy-to-use Cloud interactive computational resources for non-specialists.
In 2021/22, a new graphical environment will be developed providing software-as-a-service and platform-as-a-service instances, including RStudio, Jupyter, virtual desktops and transient Computationally Intensive Research (CIR) clusters, making access to data processing and modelling resources simpler for non-specialist users.  
Databases for Research (Project N1)
From the beginning of October, researchers will be able to request the Databases service from the IT Support Portal. This service will provide professionally managed databases for research projects working with unrestricted data, and full data lifecycle management. Researchers will be able to migrate their existing databases, at a cost, to the new service and will also be able to request the creation of new, simple or bespoke database solutions for their individual research projects. Further information about this new service can be found on our recent update article.
Innovation Communities (Project Q)
The purpose of the Innovation Communities (IC) project is to build communities of practice around key digital research technologies, focusing particularly on new technologies and/or where expertise is fragmented across the University.
This project is now part of the Digital Futures programme and will be working to enrich the existing cross-cutting themes.
High Performance Computing (HPC) improvements (Project Z)
HPC is a key part of research from across the University. In 2020/21, this project will continue to support:
The operation of the University's on-campus HPC cluster, the HPC Pool
The Manchester contribution to the new N8 specialist high capability GPU HPC based at Durham which is now open for applications from UoM researchers  
The N8 CIR is currently putting together a training programme for the Digital Humanities and Digital Health research communities at the N8 universities as well as running computational training events for the wider N8 community.