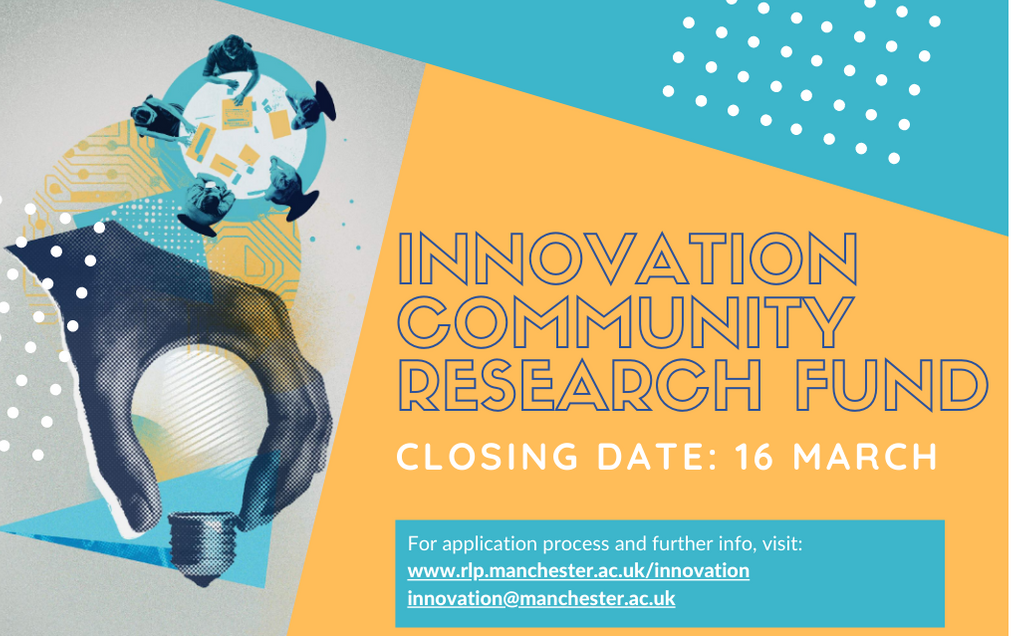 Innovation Community Research Fund
The Innovation Community (IC) are holding an innovation competition to give researchers the opportunity to kick-start their research ideas.  
Do you have a collaborative research idea that uses technology? Do you need some funding to start it? Apply to the Innovation Community's (IC) Research Fund competition to win some seed funding. The funding prize pot is £10,000, to be shared between two to four projects.  
To apply, applicants will need to submit an application form which will be peer reviewed by a cross-faculty panel. The shortlisted projects will then be invited to a showcase event on 23 April, which will be open to all researchers and staff around the University to attend. The panel will then select the successful projects to receive funding at this event.
To qualify to enter the competition:    
Your research idea should relate to one of the Innovation Community themes: Virtual and/or Augmented Reality, Additive Manufacturing, Mapping & Geographic Information Systems (GIS), Robotics & AI, Imaging & Visualisation or Drones.   
Applications with cross-department component(s) will be favoured. 
You will need to be available on 23 April to present your idea at the showcase event, if shortlisted  
Have an interesting idea but haven't been to an IC meeting yet? It's not too late. You can find collaborators at the IC meetings in February and March.  The Innovation Communities meet on a monthly basis. If you would like to find potential research collaborators from other disciplines that you feel may compliment your research, you can find more information at www.rlp.manchester.ac.uk/innovation.
Applications are open until Monday 16 March. For further information, please see below: