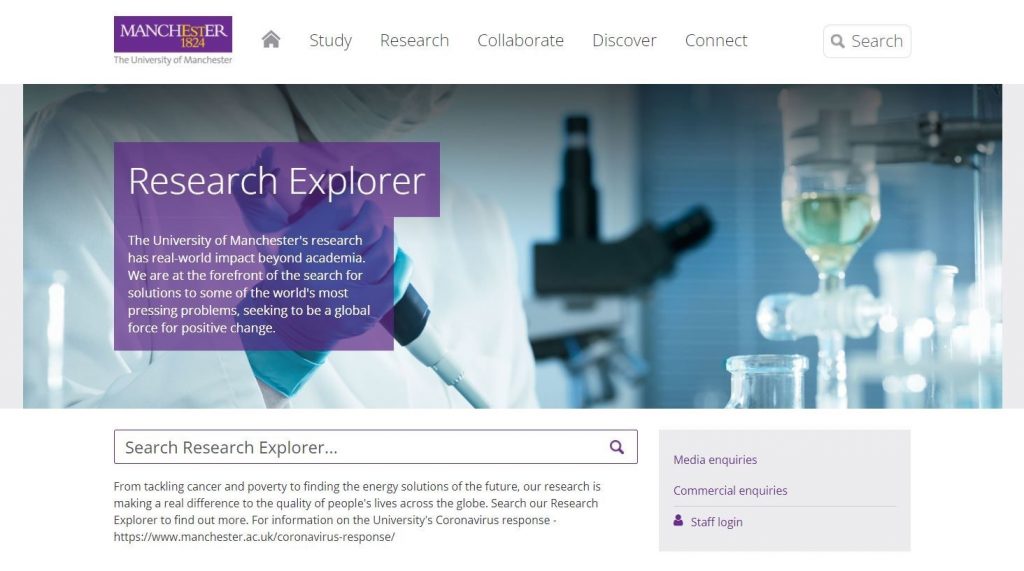 NEW: Pure Portal Project
The Research Lifecycle Programme recently started a new project called the 'Pure Portal Project'. This is a stream of work that falls under the Research Networking and Collaboration project (Project E), which is focused on improving the University's ability to undertake high-quality, collaborative research.  
What is The Pure Portal?  
The Pure Portal is the software used to power the University's research profiles. These pages make up the information displayed on Research Explorer. The portal is used to display the profiles of researchers, research staff and postgraduate research students (PGRs). Users of Pure can populate information on their profiles relating to a wide range of research activity including publications, research projects and datasets. The portal forms part of the Pure system. 
What are the projects aims?  
The original Research Explorer was launched in 2016 and so now is the time to provide an upgrade to the existing pages, including a refresh of the branding and imagery. The project will also provide improved search ability to help identify expertise both for internal staff and students but also for external visitors to the portal (the general public, potential collaborators etc.)  
The project started in October 2021 and will run to the end of 2022.   
In order to be successful, the project will:   
Establish an Academic Advisory Group with representation across all three faculties to ensure the correct level of input and expertise from across the University. This will also include input from Postgraduate Researcher (PGR) representatives.   
Liaise closely with the Pure software supplier to ensure that University requirements are met.  
Communicate updates and changes to the research community and gather feedback.  
Provide early access to the new portal so that staff and PGRs can familiarise themselves ahead of any changes.  
Create and provide a training programme for Pure users.  
How can I get involved?  
In addition to the establishment of an Academic Advisory Group, the project team will provide an opportunity for users to provide feedback throughout the course of the project. If you would like to have early access to the new portal in order to provide feedback, please email us at pure@manchester.ac.uk and we will provide you further information on how to get involved as the project progresses.    
Where can I find updates about the Pure Portal Project?  
You can visit the Research Lifecycle Programme website for more information and sign-up to the monthly newsletter. Additionally, a new dedicated project page has been created on the Pure support pages, where you find updates and information on the project.