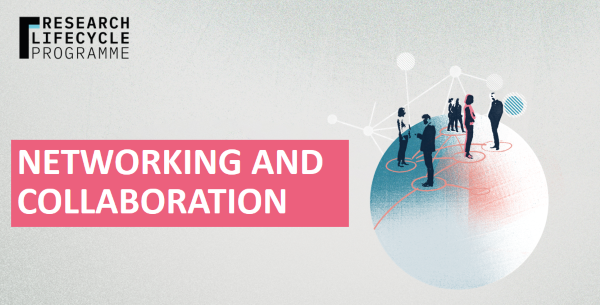 Summary report: Networking and Collaboration workshops
During May, June and July the networking and collaboration project (Project E) held a series of workshops and in-depth interviews with the research community. The aim was to identify barriers and look at potential solutions that will help research teams organise, track and manage their work more effectively. Enabling them to create community interest groups, simplify team-based management and increase collaboration, with the ultimate goal of enabling better, higher impact research with improved use of resources and data.
The objective of the workshops and interviews was to gain a better understanding of the barriers that researchers encountered and capture the research community's requirements for potential solutions.
The main identified barriers to research collaboration
Difficulty in searching for and finding connections
Communication overload with relevant information hard to access
Lack of information, support and access about shared collaboration tools and technologies
Time constraints inhibiting their ability to carry out research activity
Organisational and cultural issues
Many of the identified barriers are not new but are complex to solve. The stage the researcher was at in their career journey had a direct correlation to the specific barriers they faced.
Issues behind the headlines
The issues behind these headings are listed below:
Difficulty in searching for and finding connections 
Colleagues reported significant difficulty in searching for and finding fellow researchers with similar interests: This is the number one barrier for early career researchers when discussing collaboration. The situation is especially pronounced when research areas transcend multiple institutes or schools. PURE, the University's preferred information database and where information should be stored, has limited search functionality, with researchers stating they have either spent a long time trying to extrapolate information or even given up trying to retrieve information.
Lack of networks or networking opportunities: New researchers stated they have difficulty in finding out who to approach, or how they should approach senior colleagues.
Communication overload with relevant information hard to access
Challenges accessing information: Many University websites were reported as out of date and information being hosted in multiple locations with users having to understand the internal structure of the University to be able to locate it.
Information on 'how to' is difficult to find: This was a common theme amongst new entrants to the University, stating that they could not find information easily. 
Lack of information, support and access to shared collaboration tools and technologies
Cumulative issues regarding IT solutions: IT related issues were reported from almost all responders but specifically from senior colleagues. These are clear barriers and frustrations to many researchers. They causes knock-on confidence issues in the support services who are perceived 'to not understand the researcher's complex needs'.
Multiple technologies: There are multiple similar technologies being used by the research community. For each different technology researchers need to be informed how to access, and use the tool. This is both time consuming and in some instances an outright barrier.
Lack of clarity over recommended solutions: Specifically which are the most appropriate tools to use, which are supported by IT and have relevant training and support. Colleagues noted a lack of clarity advising which tools can be used for restricted data storage and highly restricted data storage, how they relate to the other solutions in the portfolio, the cost of using these and any issues to be aware of with specific solutions.
Time constraints inhibiting their ability to carry out research activity
Having insufficient time to look for and undertake collaborative activities due to researchers other responsibilities, such as their teaching, supervising, funding and admin duties.
Organisational and cultural issues
University structure: A consistent view that the current structure does not lend itself to interdisciplinary research. This creates complacency as researchers stop trying.
The competitive environment: The environment that researchers have to work in when applying for, or attempting to obtain funding for their work does not engender a spirit to, or allow the sharing and, or dissemination of information.
Funding issues: Schools are set up to support applications to specific funders, not interdisciplinary applications. There is a lack of flexible forms of funding to support collaborative ideas.
Competitive position: Some researchers questioned why opportunities and digital initiatives that occur at other Universities are not happening at Manchester.
Next stages
Activity under way
The project team are working with IT to support the implementations of existing technologies that facilitate collaboration (eg Microsoft Teams, Overleaf, etc).
The team are also working to provide relevant guidance to the research community on the benefits of specific technologies, which are supported, what data can be stored and any costs associated.
Activity initiated
Investigate how existing technologies could work more effectivity (eg PURE).
To develop networking opportunities (RLP Project Q: Innovation Communities).
Targeted communications to and for researchers (Single Digital Community project
Additional projects to be considered
A 'toolbox' for researcher networking & collaboration, University-supported tools with guidance (policy, training, ways of working and practice).
Gain greater understanding of the reported organisational and cultural barriers.
Explore competitive position by understanding what researcher experience at other universities.
Review existing websites and communication channels and develop a single point of access for tools, information, support, resources and induction.
Methodology: The workshops and interviews
The methodology for the research took a qualitative approach with a mix of focus groups and depth interviews:
– Six workshops held between May and July 2020
   92 registrants representing a good spread across all faculties, with 55 attendees.
   Mainly early and mid-stage researchers.
27 (49%) were FSE
14 (25%) FBMH
6 (11%) for FHUM
8 (15%) were from PS
– 7 in-depth case studies completed with senior academic colleagues.
For further information please contact the Project E team: