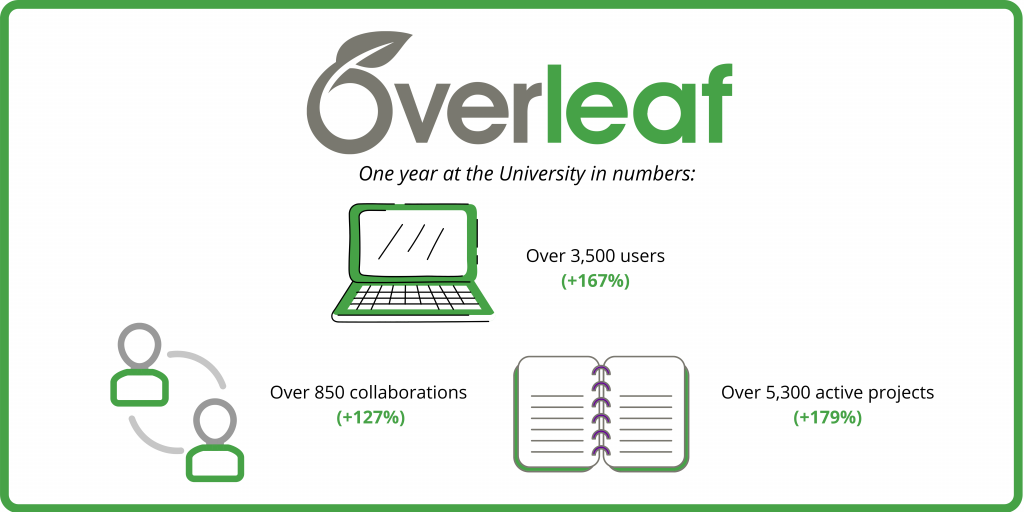 Overleaf: A review of our first year
One year update
In summer 2020 Overleaf Professional launched at The University of Manchester, offering researchers, staff and postgraduate researchers (PGRs) the opportunity to make use of the premium version of Overleaf's collaborative academic writing and publishing tool.
Staff, PGRs and researchers can avail of a premium account by visiting www.overleaf.com/edu/theuniversityofmanchester and signing in with their University email address.
During the first twelve months of Overleaf Professional licences being offered to the Research community we have seen:
Over 3,500 users (an increase of 167%)
Over 5,300 active projects (an increase of 179%)
And over 850 collaborations (an increase of 127%)
An update on our Overleaf engagement call
Earlier this year, we started a post-implementation review of Overleaf so we could get feedback on how users at the University were finding it so far. This was focused on gathering feedback on what UoM users liked about the tool and any suggestions for further improvements.
We had over 100 responses to our survey and a number of people also offered to get involved in further focus groups.
The feedback has been extremely positive, with over 98% of responders stating they would recommend Overleaf as the 'go to' application for collaborative writing and publishing of papers.
A number of suggestions for improvement were also submitted, which have been passed on to the Overleaf development team. The key themes of these suggestions were:
Error messaging (eg ability to debug small command errors, check/uncheck error flags and further clarity on how to identify and correct an error flag)
System / device integration (eg better integration with UoM storage repositories and better mobile/tablet integration)
Review / edit and version control (eg ability to select options for track changes and comments, and improved functionality for concurrent editing)
Training / guidance (eg additional guidance on backing up git repositories to Overleaf and other sites and general training on using LaTeX)
General feedback (eg the possibility of opening up the Professional accounts to the undergraduate student population, ability to work offline, ability to download individual LaTeX files from a project, and more journal and University specific templates)
Next steps
The University still has a further two years of the initial 3 year agreement with Overleaf left. During this time the Research Lifecycle Programme, in collaboration with the Library, the Communications teams and Overleaf representatives, will continue promoting Overleaf and ultimately hope to continue to increase the uptake of Overleaf across all faculties in the University.
Webinars, communications and ongoing support will continue to be offered for all researchers, PGRs and staff and the RLP and Overleaf team will continue to work closely with our ever growing population of users on improvements.
Find out more about Overleaf at The University of Manchester: